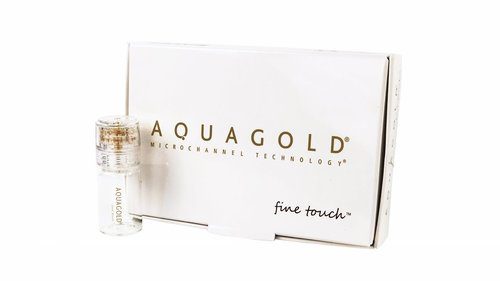 TELL US A LITTLE ABOUT YOURSELF AND YOUR CLINIC. 
Dr. Pamela Benito, an Aesthetic Practitioner based in Belgravia (London). I have been in the industry for over 12 years, offering non-surgical treatments and advanced medical skincare.
I believe in achieving beautiful, natural results and offer the advantages of a combined treatment approach so we can address my patient's aesthetic desires.
In my private clinic, we provide bespoke skin treatments with a holistic approach to help enhance each individual patient.
Besides, I am an aesthetic trainer and like to spend much of my time educating other medical practitioners who are striving to further their skills and expertise in the aesthetic industry.
HOW LONG HAVE YOU BEEN USING AQUAGOLD ON YOUR CLIENTS? 
I have been using Aquagold Fine Touch and offering it to my patients for over 2 years now, and achieving great results!
WHAT KINDS OF RESULTS DO YOU AIM TO ACHIEVE WITH AQUAGOLD? 
Skin rejuvenation with no downtime. Aquagold™ Fine Touch nourishes, heals and rejuvenates the skin giving a more radiant and natural youthful glow.
Because the device uses 24-carat gold needles, it has anti-inflammatory properties which can help calm acne, reduce skin redness and protect against free radicals that may lead to photoaging and wrinkles.
This facial treatment delivers a blend of selected ingredients to target dehydration, hyperpigmentation, acne scarring, enlarged pores and fine lines and wrinkles. It also induces new collagen production and is able to treat evenly at a predictable skin depth.
WHAT KIND OF FEEDBACK HAVE YOU GOT FROM CLIENTS? 
My patients just love it! They like the fact that they can have this treatment 'pre-event' as there is no downtime. It is suitable for any skin type, even the most sensitive ones.
It is a skin rejuvenation treatment that will not disrupt their lifestyle. Because we can create very bespoke cocktails, patients feel that is a treatment tailored specially for their concerns and personal skin needs.
WHAT SERUMS DO YOU USE IN YOUR DEVICES?  
I use Skinworkout™ serums which are made up of two specially formulated pharmaceutical grade pure hyaluronic acids, and expertly selected components to support skin health and rejuvenation.
In patients who also wish to tighten pores and reduce sebum production, we can combine these serums with Botulinum toxin which can reduce redness too.
WHAT KIND OF CLINICS DO YOU THINK WOULD BENEFIT FROM BECOMING AQUAGOLD™ PROVIDERS? 
Any aesthetic / skin clinic who is looking to offer non-invasive treatments, with no downtime and wanting to keep their patients glowing!
WHERE CAN PATIENTS FIND YOUR CLINIC?
You can book a consultation on our website www.drpamelabenito.com
You can also follow us on Instagram
Back to blog